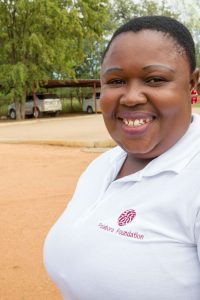 Elsie is HIV+ and is not afraid. She is not ashamed to disclose her status, she is not scared of the disease, nor hesitant to talk to others on the same journey about their struggles and challenges. With the support of the Foundation, she has become an inspiration to many and has made it her life's work to help others to live a healthy, full life no matter what their status. As a volunteer at the Palabora Foundation's Community Health Services Section, Elsie visits HIV+ and Tuberculosis patients in the Ba-Phalaborwa area who seem to be lapsing in their treatment. The Foundation keeps track of chronic patients' treatment and rely on volunteers like Elsie to visit patients. These visits usually occur from Monday to Thursday when Elsie will assess the patients' situations and even do counselling where needed. Fridays are usually set aside for reconciling information and planning the week ahead.
Elsie, being on treatment herself, relates to patients and their difficulties. She is also a huge inspiration when she confidently and astutely talks about living with HIV and AIDS. While the stigma around HIV and Aids is not as evident as in the early 2000s, there are new challenges. One of these is enabled by technology, where young people, born with HIV, now google the history at the time of their birth (many around 2004/5/6) and find that pregnant women at the time were obliged to be tested for HIV so that they could opt for Prevention of Mother to Child Transmission (Palabora CopperT) treatment. They become angry and stubborn, sometime confronting their parents with accusations about how the disease was passed on or indulging in risky behaviour. In other cases, teenagers who start experimenting with sex and are HIV+ do not want to disclose their status or use protection for fear of their peers' reactions.
Whatever the challenge, by working at grassroots level, Elsie and her peers at the Foundation keep their fingers on the pulse of the community and ensure real and emerging needs are met.