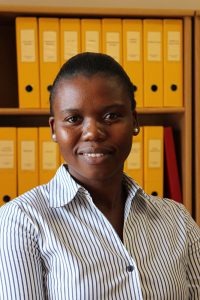 From cleaner to administrative clerk in nine years is how Emily Mhlarhi (35) defines her career path at the Palabora Foundation. And she has no intention of slowing down. With one subject left to finalise Level 6 of the National Qualification Framework – Emily hopes to enrol with UNISA's Diploma in Office Management Programme within the next year.
Emily's confidence has grown during her journey. Leaving school after Grade 10, she started as a cleaner at the Leboneng Library in Namakgale in 2008. "I had no hope and no self-belief."
Her first break came when she was asked to stand in for an absent clerk at the library, and although Emily had no experience, expertise or con dence, her determination and willingness to learn pulled her through.
At around the same time, she started the Adult Education and Training (AET) course at the Palabora Foundation and completed Level 4 in 2010. The next year, she achieved a certificate in office management the University of South Africa (UNISA) and was appointed as an admin clerk at the Library. The Palabora Foundation recruited her to it's Skills Development and Training Section as an admin clerk in 2013.
"I am so grateful. When I came here, no one judged me. The people at the Palabora Foundation encouraged me to try new things. They are the ones that helped me unlock my potential."