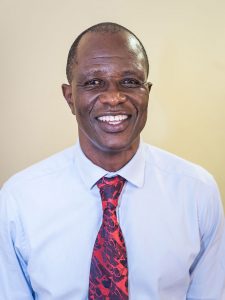 When CEO Malesela Letsoalo reflects on the work of his team over the last year, he has much to be proud of. What really excites him though is the impact their work is making on the people of Ba-Phalaborwa. Looking at the 4 core programmes that the Palabora Foundation runs within the context of local, provincial, national and global needs will give you an idea of what their day to day work entails. But when you begin to meet the people who have benefited from this work, you will understand how it is changing lives.
"Our work is about supporting people's potential and developing their dreams by providing them with skills and opportunities to succeed."
The Palabora Foundation has a passion for people. We have been working in the Ba-Phalaborwa area for 30 years now and we care about its residents! Reaching 30 years is a significant milestone. It means that we have grown up together. And when you grow up with people, you know each other well. You feel each other's pain, you respond to each other's needs, you take pride in things you achieve together, you advocate on each other's behalf. We are very proud of what we have achieved working with the Ba-Phalaborwa community to equip people with the skills, resources and opportunities to better their lives and the lives of others through this domino effect.
Each of our programmes is designed to support the needs of our people in practical ways. This means equipping them with skills, resources and opportunities. But our work is about more than this. It's about Lehlogonolo Msuma, who won the Eskom Expo for Young Scientists and was selected to represent South Africa in the United States! Or Reply Maluleke, a young man from Maseke Village who is now a Mining Engineer!
Helping the young men and women in our communities see their futures differently – and then achieve their dreams – doesn't just benefit them. It benefits everyone they come in contact with. In fact, studies show that our work has a domino effect. This means that of the thousands of people who have benefited from our programmes in 30 years, even more are living better lives today as a result. What a privilege as Director to have been part of this story and to see the effects spread from Ba-Phalaborwa to other places in South Africa as jobs and opportunities arise.
Of course, much more needs to be done. The legacy of apartheid's inequalities lives on in social and economic structures in our country. Life in Ba-Phalaborwa is still hard for many people. Instead of focussing on the challenges though, we're excited about the opportunities we have to tackle them by working together with our partners in government and the private sector.
Our funders and partners are integral to our success. As a foundation born out of the recognition that industry has an ethical and legal obligation to invest in the communities it draws on for labour, skills, land and more, we know firsthand that corporate South Africa has a huge contribution to make to bettering the lives
of our people.
Collaboration is key when it comes to building a common and prosperous Ba-Phalaborwa. As such, we're committed to working with our corporate citizens to ensure that when they prosper, we all do. We salute them for recognising their responsibility to address imbalances, grow people and plough profits back into Ba-Phalaborwa, because business is not just about shareholder value creation.
At the heart of our work remains a commitment to care, aligned to South Africa's National Development plan. This is a normal and natural effect of growing up together. Our future as a foundation and as a town is invested in the progress and prosperity of the individuals. We are proud of every single person who has gone through or bene ted from our programmes. People need to be economically active, so more than just developing skills our strategy going into the future involves ensuring there is o -take in the form of jobs for the people that we train.
This means enabling people to get into industry locally and in the province and in the nation. Their lives will be uplifted, but so will the lives of their friends and family, because we know that people don't move ahead alone, they move ahead together.
Going into the future, we believe we are well equipped to align our interventions as an organisation to facilitate a relationship of mutual benefit for the people of Ba-Phalaborwa and its corporate stakeholders. By focusing on telling our stories, we hope that the people of Ba-Phalaborwa and our corporate donors can see the difference they make by fulfilling their duty of care. We're not taking about statistics here, but about people.
Thank-you to our board, our trustees, our staff and our donors for what has been achieved over the last year and the years before that.
But thank-you most of all to the men and women who have bettered their lives through the opportunities we as the Palabora Foundation have been able to provide. That, after all, is what we're all about.